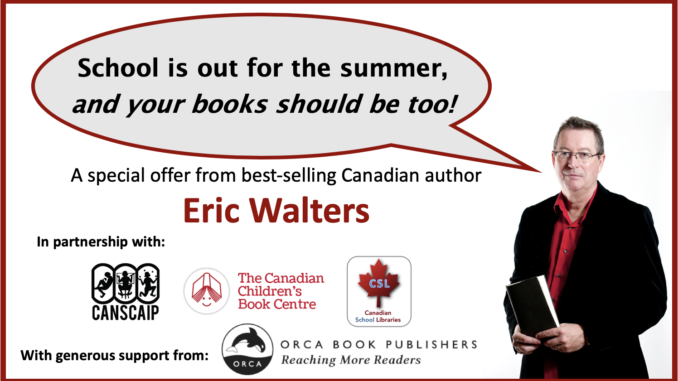 Best-selling author Eric Walters wants to make sure that Canadian students have access to great books all summer. Together with CANSCAIP, the CCBC, Canadian School Libraries and the generous support of Orca Book Publishers, Eric is hoping to get 15 or 20 or even 25 schools to run a summer lending/reading program.
Learn more about this program here.
If you decide to try a summer lending/reading program, e-mail Eric Walters at ericwaltersauthor@gmail.com and tell me him that you're 'in', including your school address, and he will mail out a poster and book marks to your school. In the fall email once again and provide feedback, sharing what you did, how you organized the program, share successes and problems, and things you would do differently to improve it. Please include  how many students utilized the program, how many books went out and how many came back. This information will be used to give feedback to all of the schools that were involved. You'll be connected with Orca Publishers to take advantage of their generous offer. Lost books might happen but we have you covered. The wonderful people at Orca Book Publishers are willing to allow you to replace missing books with books from their vast catalogue at an incredibly reduced rate – up to 75% off on selected titles and 50% on most of their stock. While these will not be the same books that went missing, your collection will remain robust and be injected with other quality, Canadian books from one of our country's premier publishers. Orca Book Publishers believes in getting books into the hands of readers.
Well, are you in?
---
Project Partners
Project Sponsor

---